News
Kautex made-in-China blow molding machines into third generation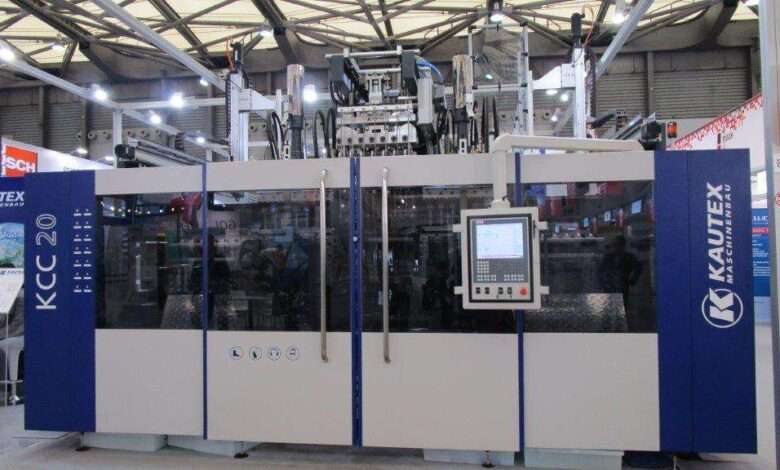 Visitors to the Kautex stand at Chinaplas had two reasons for excitement. Behind the compact footprint and low machine height of the KCC MK3 machine on show were several examples of what's possible with the machine builder's all-new purpose-built KSB suction blow molding machine for low-flash production of 3D molded parts officially announced at the show.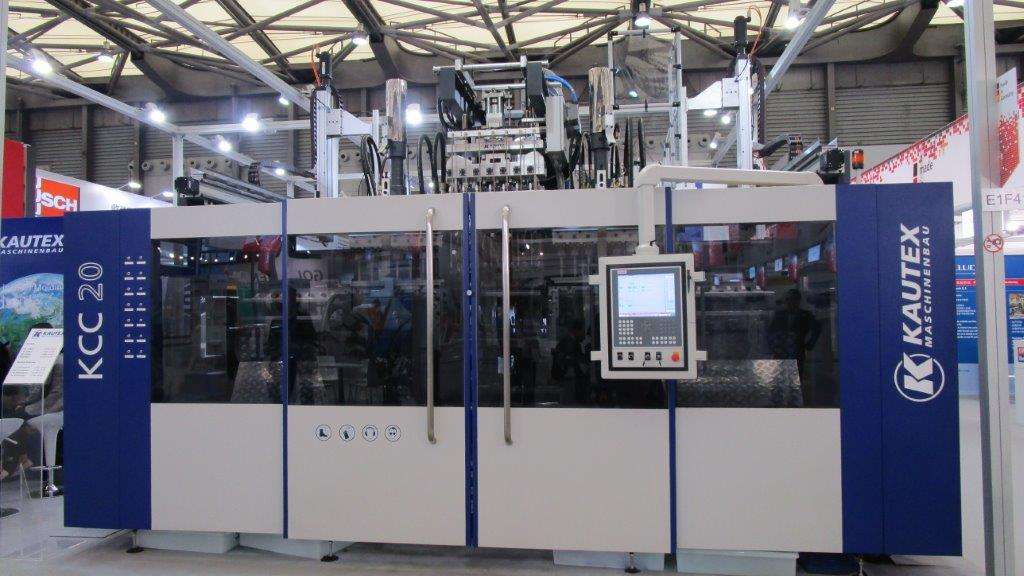 Third generation KCC extrusion blow molding machine features a compact design.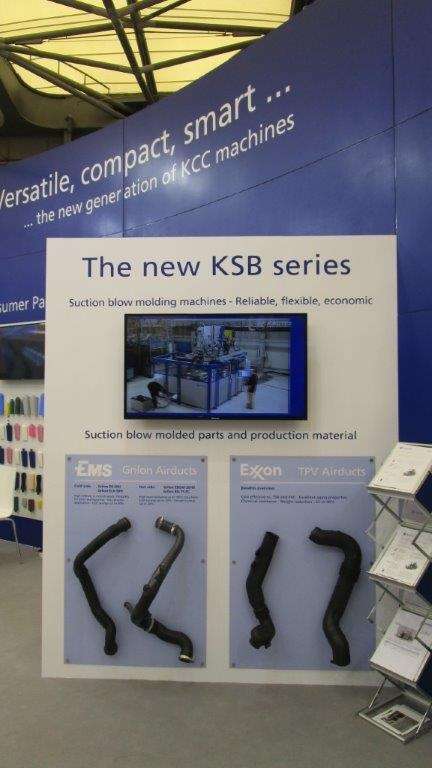 Suction blow molding machine can sequentially blow materials such as polyamides and thermoplastic vulcanizates.
Last year at Chinaplas, Kautex exhibited a 1984 era German extrusion blow molding machine retrofitted with suction blow molding capability by its Shunde, China plant. The machine was subsequently sold to the Suzhou, China, R&D facility of polyamide supplier EMS-Grivory. EMS-Grivory has also taken delivery of a KSB machine at its Shanghai site. Two additional machines have also been sold. The machine is built in Germany.
Employing the Kautex BC5 controller form ease of operation, the new suction blow molding machine takes up almost 50% less space than previous equipment. In addition, the machine was developed so that all processes can be tracked at eye level.
The 10-tonne clamping force machine is capable of sequential blow molding with different, rigid and flexible materials, as well as processing of glass fiber-reinforced materials.
Further a servo-driven XYZ positioning function delivers flexibility to the parison feed. "The parison entry point invariably varies from tool-to-tool so this positioning capability makes set-up easy," says Dieter Rothe, Key Account Manager, BD Consumer Packaging, at Kautex. The machine can accommodate various mold widths.
Global demand for plastic ducts for the automotive sector has been rising consistently ever since the use of engineering resins such as polyamide (PA) 66 and polyphenylene sulfide (PPS) has enabled the production of highly heat-resistant exhaust ducts.
Kautex's third generation KCC series machine, meanwhile, was announced at an Open House event in October last year and represents a complete relaunch of the KCC series, first built in Shunde back in 1997. As well as a number of new and revised technical features, the machine has also been completely re-designed, to visually blend in with the look of new Kautex machines.
With its compact form, the new KCC generation takes up less floor space in the production hall. Better accessibility not only makes the blow molding machine easier to service, but also speeds change over times. Molds can now also be changed from the side, for example, and products are discharged from the rear of the machine. Further, greater standardization of modules and components has reduced the investment costs of the new machine and shortened future delivery times.
Mark Lueddecke, Vice President of Kautex Maschinenbau in Shunde, plans to introduce the new generation of machines to the market on a gradual basis until the switch-over of the entire KCC range has been completed. Currently, 10, 15 and 20-tonne machines are offered.
"We offer KCC machines for all kinds of consumer and industrial packaging applications as well as for the automotive sector. This high degree of flexibility is precisely why this machine series has continued its success for almost twenty years."
source: http://plasticstoday.com/